Employee well-being is a fundamental component of Arcanys' culture and a critical factor in a laundry list of business outcomes, including productivity, motivation, and retention. Many of our perks and benefits have been designed or enhanced to foster a self-care mindset over the years.
But with the rise of working from home and the development of a more sedentary lifestyle in the past couple of years, many watched their physical health and stamina decrease.
So when our Florida-based client Geoff Robinson, CEO of Koobani, told us that he wanted to do something to help his software team of 6 and himself better take care of their health, I was happy to oblige, and we came up with a fine idea together.



On a mission to develop workout habits as a team in 6 weeks  
The "Get Moving" initiative was launched in November 2022 to encourage the Koobani team members to:
Start (or resume) healthy, sustainable habits. The deal is simple: Everyone in the team should exercise 4 times or more per week for at least 30 minutes. It could be anything that gets the blood flowing, from weightlifting at the gym to a yoga session at home or a brisk walk in the neighborhood. We bet on a six-week program—just enough to establish new routines. 
Get motivated along with teammates. We know having workout buddies can be a complete game changer. Geoff Robinson's team is a small, tight-knit group of engineers—Jun, Michael, Lindon, Edsel, Romeo, Roxenne, Geraldine (the project coordinator), and, well, Geoff.
Get multiple rewards for it. Arcanys has paid employees to exercise for nearly two years now. But Geoff's Get Moving initiative took the experience to the next level for the Koobani team!



Log & Earn easily using the ArcWorkouts app
ArcWorkouts ecosystem: Logging sessions in the team's dedicated app space
Fitness sessions should be recorded in ArcWorkouts, an internal application that we developed and launched in March 2021 as part of our Wellness Program enhancements.
Everyone would use the app to track their workouts and upload them in the "Koobani" group created specifically for the project. They could either take a sweaty selfie or import their workouts via a third-party app on a sports tracker.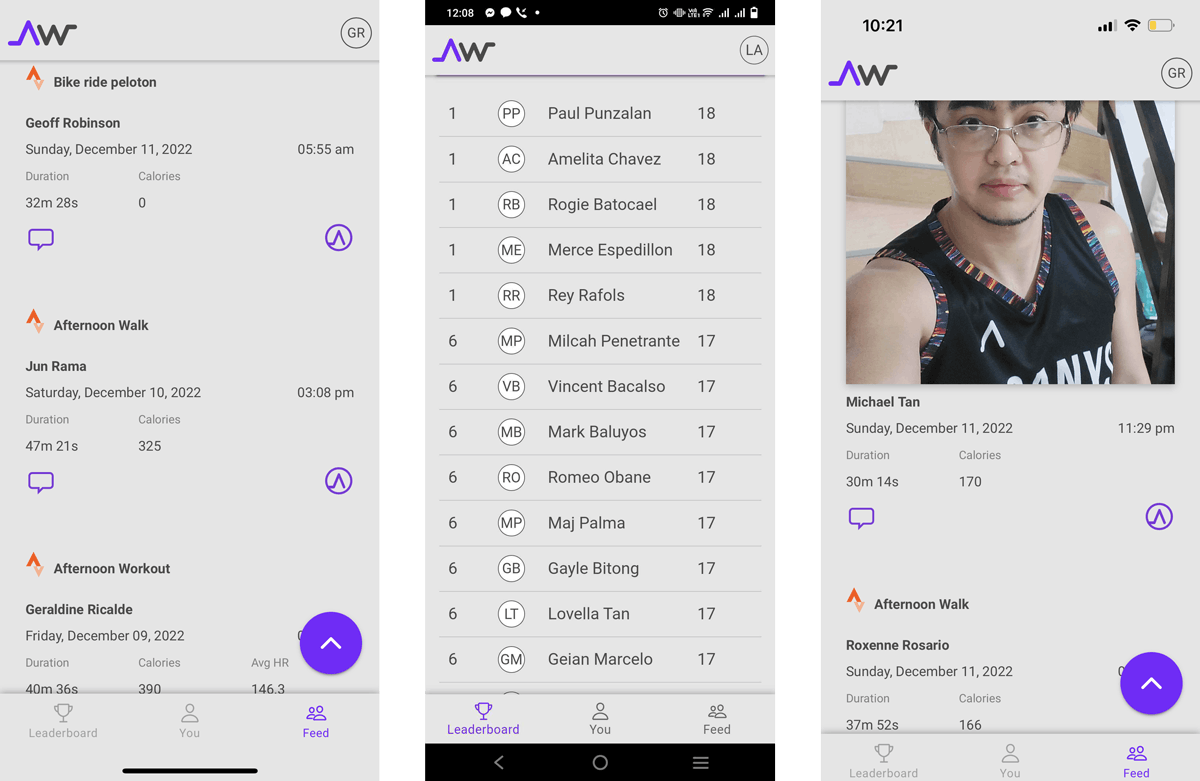 Sponsored gym and equipment
Arcanys sponsors gym memberships or sports equipment (up to Php2,000 per month), and provides every employee with a Garmin watch – including all six Koobani members. The only commitment we ask is to use it at least 8x per month for five months.



The rewards that make it all worthwhile


Halfway to a lifelong habit
If it really takes 12 weeks to build a life-long habit, then each team member is about halfway to creating a life-changing habit for their health.


Cash compensations
$1 per workout. This is our company's deal for all employees: it pays to exercise. Everyone can make up to USD20 extra per month.
The client offers $150 individual prizes. After completing the 6-week program, Koobani would give each successful team member USD150 – A hefty sum to add to the holiday funds, giving each team member more reasons to celebrate with friends and family.
Extra $50 if everyone hits the mark. To get everyone to keep at it, Geoff promised to increase the bonus from USD150 up to USD200 each if the entire team sticks to the challenge and hits 24 workouts or more.


Social impact
Not only do we incentivise employees to work out, but we also manage to raise awareness and funds for our CSR, the Arcanys Early Learning Foundation. Our company contributes the same amount employees earn to funding coaching lessons for beneficiaries of the Arcanys Early Learning Foundation in Barangays Ermita, Pasil, and Suba. In 6 weeks, Geoff's team contributed about USD150 to the Foundation.


Bonus: The time spent exercising is deducted from working hours 
Geoff was kind enough to allow his team to reduce their working hours to compensate for the workouts. That means the Koobani team could just work 8 hours a day and do their workout for the remaining 30 minutes. Workouts could also be done on the weekend if they had a busy work week. Basically, they can reduce their work hours by 2 hours every week.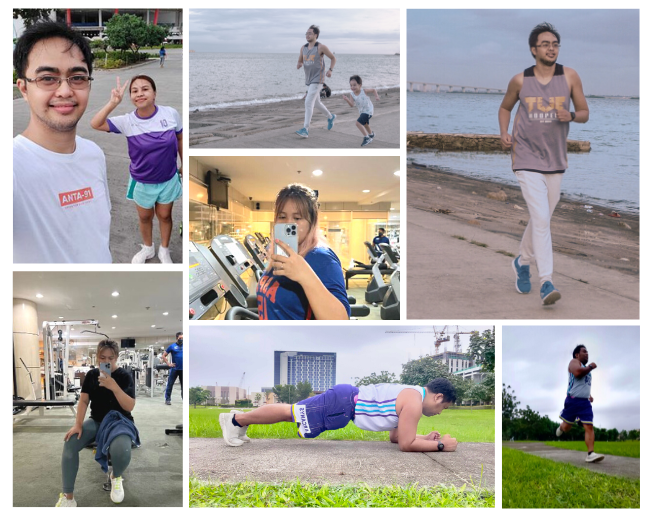 Mindset shifts: from struggling on the climb to enjoying the ride
With the reported activity drop from our people since the pandemic, we've been continuously scratching our heads on how to inspire more people to get out and move. But seeing our partners and clients share our concerns and join forces to normalize physical exercise gives our efforts a whole new dimension. Here's what the Koobani team experienced.


Starting point: Minimal activity
Physical activity was minimal for all but one member before Geoff proposed the initiative.
Before the pandemic, Mike was a regular basketball player (we had a basketball club in the company), and Edsel likewise used to play badminton. But since then, the two have had no physical activities at all. Most days, they just stayed at home.
On the other hand, Geraldine did work out once or twice a week but wasn't very religious about it, while Roxenne only enrolled in a gym to start doing cardio in June last year. 


The announcement
While everyone felt quite surprised to hear about the initiative, they were all excited to hear about the prizes. Once the feeling of surprise had passed, everyone was raring to start. The team highly appreciated the motivation they got from their client and Arcanys to start exercising:
"Nothing is more important than our health, and with the Covid lockdowns, many of us have gotten into some habits that might not support being healthy. This fun team goal can help us encourage other team members to make steps towards living a healthy life for ourselves and our loved ones."

~ Geoff Robinson, CEO, Digital Earth Network (Koobani)


"Geoff is so good with words 'cause he's a salesman. He sold us the project immediately. He shared his story on how he was gaining weight and how beneficial it would be for us all to start new healthy habits."

~ Geraldine, Project Coordinator
Coming out of "hibernation"
Almost everyone opted for 30-minute brisk walking 4 times a week. Sometimes, Roxenne does Zumba, and Mike goes jogging. Meanwhile, Edsel is a hardcore brisk walker and would venture out for his walks, rain or shine. Regardless which physical activities they might choose for that week, they unwaveringly stuck to the plan and logged 4 exercises weekly. 
And as is common with creating new habits, there were a few growing pains.
"I think I was in hibernation for a couple of months... or one year. So as I was adjusting, what I did was brisk walking for a minimum of 45 minutes, at least 4 km of a long walk. That's my goal for every workout. So the result was a lot of body pains, especially on my feet!"

~ Lyndon, Backend Software Developer
That energy boost for being accountable to each other
"For me, it was kind of a pressure at first since everyone was doing it, and there was an extra bonus if everyone did it. But everyone was so excited to do it."

~ Roxenne, Software Developer


"At the start of the program, Geoff showed us his physique at 58. He tried to also motivate himself to do the workouts and lose some weight."

~ Edsel, Test Engineer


"It's a win-win situation because you get a good watch plus you get to do exercise to keep you healthy.  It is very helpful for developers like me, so we get to move and not just be sedentary. And most importantly, I feel like Geoff really cares for us."

~ Mike, Software Developer
The results
Not only did the team find out exercising helped them de-stress from work, but Edsel also discovered that brisk walking made him feel lighter.
It has been a positive impact on my daily life. Aside from the monetary rewards, we could reduce our work hours, and it kept us healthy physically and psychologically. Because whenever we exercise, it releases the stress we feel during work. It really helped a lot. Physically, it also made our bodies feel lighter."

~ Edsel, Test Engineer


"For me, I plan to just continue doing the exercise because, from the moment I started it, it releases some of our stress. I feel nicely sleepy after doing some exercise. I feel healthier, and I feel the need to do more exercise because you're getting used to it, and it's really nice."

~Mike, Software Developer
Since they have seen the great benefits of exercise, they doubt they'll ever return to their old sedentary lifestyle. For us at Arcanys, we can only pave the way for people to take better care of themselves and come up with more perks to encourage them to keep at it – like sponsoring gym memberships for our employees' partners, and why not even build our own gym in Cebu.




More about ArcWorkouts
Early last year, we started offering people free sports watches for them to better monitor their personal fitness goals. We built a Strava integration in our app, so now about two-thirds of the logs are via Strava. Most Arcanytes log their workouts via Garmin Connect, which syncs with Strava, and Strava automatically syncs with ArcWorkouts. 
The app also has a leaderboard where people can join specific groups and compare their stats with teammates. Just like Koobani did, teams can create their own group in the app and see each other's stats in the feed, and comment on workout posts.
Here are some of the stats we've gathered from ArcWorkouts throughout 2022.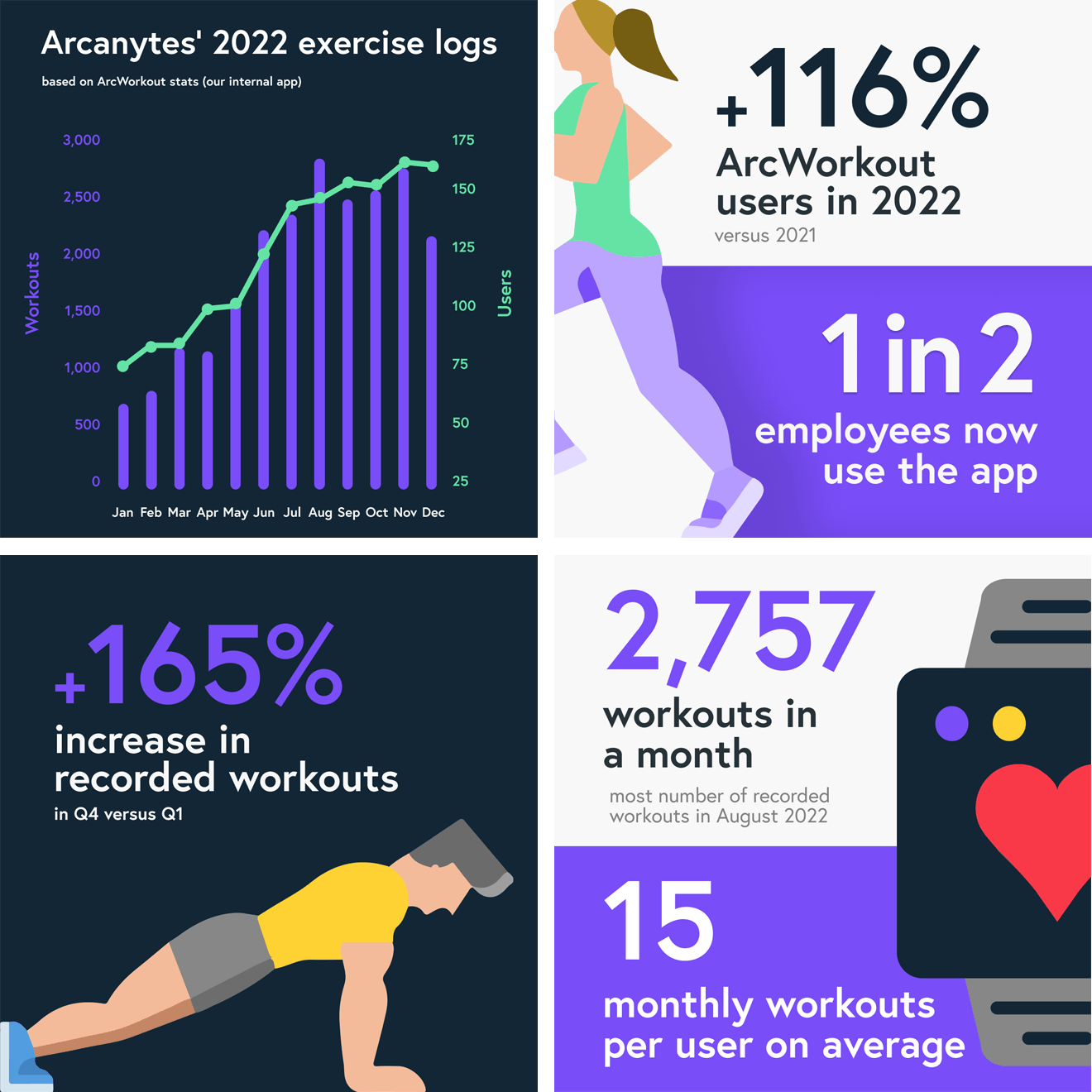 TL;DR: A scalable concept that takes employee wellness and bonding to the next level
Arcanys has developed a comprehensive Wellness Program over time that includes sponsored gym memberships, gym equipment, and sports watches for all employees.
We launched a mobile app in early 2021, ArcWorkouts, to reward and incentivize our employees' workout sessions.
The app is evolving into a powerful health and team-building tool that our clients can easily leverage with their remote software engineers.
If this is something you'd like to also explore with your team, get in touch with us today!