Triple recognition for our software development teams

Since 2010, Arcanys has grown significantly in providing a wide array of custom software development solutions to all kinds of business organizations from various countries. From startups to established businesses, our dedicated development teams have worked hard to bring companies closer to their consumers. As a tech company, to witness the fruits of this particular labor is a privilege we'll always be grateful for. And so, we're thrilled to share (yet again) that Clutch.co recognizes our work and has named us a leader in the custom software development industry in 3 different niches: AngularJS development, NodeJS development, and machine learning.





B2B ratings and reviews firm, Clutch, is committed to bringing together businesses with specific tech needs and IT agencies with the right capabilities to serve those needs. They analyze agencies and providers based on their expertise, their work portfolio, and their ability to deliver top-notch products to clients.

The Arcanys edge

One unique Arcanys factor is that our analysts and software developers converse and collaborate directly with clients, acting as an extension of their local in-house teams. After all, we only hire the top 5% of candidates we find—and not just on experience in their corresponding fields of expertise and their language skills, but also on cultural fit, exceptional soft skills, and just plain niceness. This, in turn, allows us to assemble passionate teams of technology badasses thrilled to consider client projects as their own, and who are ready to roll up their sleeves, deliver clean code, and meet the most eccentric of software demands.

Moreover, we have been in the industry for almost a decade and we know what businesses need in order to succeed, being entrepreneurs ourselves. Since we know that requirements change frequently, we've adopted a streamlined, flexible approach to managing change. As pure Agilists, we're used to working with Kanban, Scrum, or XP-practices, and we make sure we always deliver high-value software solutions. And those are the reasons why we are adept at scaling tech teams quickly and seamlessly, depending on a client's needs.

Case in point, here's the latest client review that Arcanys received, which undoubtedly provides a quick glance at how Arcanys is currently handling their software team extension needs. See more reviews here.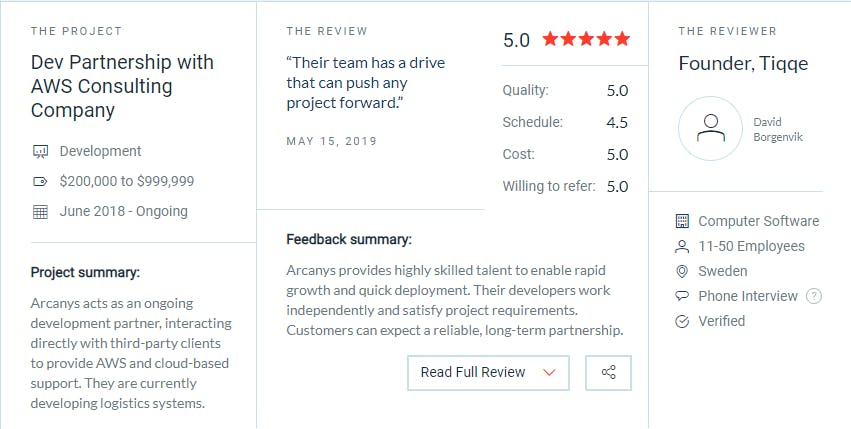 In addition to the recognition from Clutch, our accomplishment expands to the firm's sister sites: The Manifest and Visual Objects. The Manifest publishes industry reports and how-to guides to help businesses efficiently grow and build their brand. They put us in their list of top companies with expertise in machine learning. Visual Objects, on the other hand, is a portfolio hub that features collections of software development projects from top creative companies around the globe, one of which is Arcanys.

This recent slew of recognition (in 3 different categories!) only reflects our high standards in building highly skilled teams for our clients. More than that, however, it is also a testament to how we foster relationships with our clients and our employees.



In connection to this, we are truly thankful to our clients for taking the time to share their experiences with us in Clutch. We'll continue to strive for the better and we're actually excited to see what the rest of 2019 has in store for us!