We are thrilled to announce that Arcanys has been recognized as one of the top IT-BPM workplaces in the Philippines for 2023! This wonderful accolade, given by Great Place to Work together with together with IT & Business Process Association Philippines (IBPAP), is a testament to our commitment to excellence, innovation, and the incredible efforts of our dedicated team. And this just a few weeks after we got certified as a Great Place to Work, too!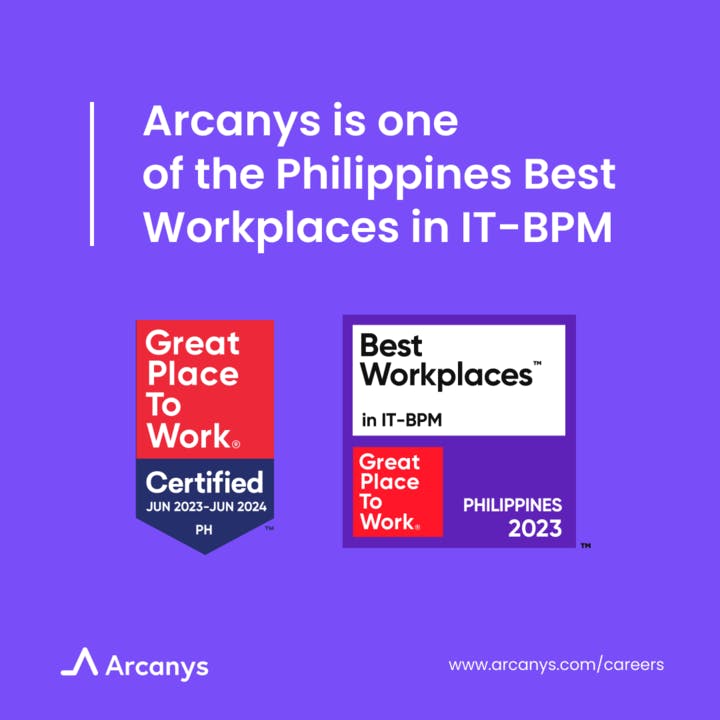 At Arcanys, we have always believed that our greatest asset is our people. This recognition is a reflection of the vibrant culture, collaborative spirit, and unwavering dedication that every member of our team brings to the table. The hard work, passion, and ingenuity of Arcanytes make Arcanys a standout in the industry.
This achievement would not have been possible without the trust and support of our clients, partners, and stakeholders. Your confidence in our capabilities has been instrumental in driving us to continually raise the bar and deliver exceptional results.
We extend our heartfelt gratitude to every Arcanyte, past and present, for your role in making us a top IT-BPM workplace. Together, we have built an environment that fosters growth, innovation, and collaboration, and we are excited to continue this journey of excellence.
Thank you to our amazing team, clients, and supporters for being part of this incredible achievement. Here's to a future filled with even more milestones and successes!
Wanna join the Arcanys squad yourself? See our open jobs and email your CV today.