In all the craziness of 2020, it has nonetheless been an exciting year for Arcanys. We focused our energy on connecting with our people and partners. To keep our dedicated teams within Arcanys engaged and motivated, we initiated the ArcWorkout Daily 30 challenge, re-opened our kitchen to deliver home-cooked lunches, and even offered online coaching lessons to those who have children, which are handled by our CSR, the Arcanys Early Learning Foundation. At the same time, we've also kicked off new collaborations with long-term clients such as Patienteer's Covid-19 app.

And as if we don't have more than enough to be thankful for, Clutch has once again ranked us among the top outsourcing companies in the Philippines. Woo hoo!
Among the top software firms in PH three years in a row

Every year, the independent research platform Clutch releases its rankings of top B2B companies worldwide, according to geographic location and service line. We're honored to announce that, according to this list, Arcanys is the best software development company in the Philippines for 2020!

In previous years, we've received several recognitions from Clutch, specifically for being:

among the top software development companies in the world in 2018 (Clutch 1000 list)
a leader in 3 niches of custom software development, namely in AngularJS, NodeJS, and machine learning, and
How can Clutch ensure honest reviews?

If you're unfamiliar with Clutch's processes to ensure independent B2B ratings and reviews, it's pretty straightforward. Their team of independent analysts conducts interviews with former clients of service providers listed on their site. These verified reviews are the main criteria of Clutch's ratings, rankings, and various awards.

You see, big brands looking to outsource would typically spend an insane amount of time doing their own research and evaluation to find the best people for a given task. This process is not only time-consuming but more often than not, they also end up finding plenty of all-glowing reviews that they know need to be taken with more than just a grain of salt.

Clutch solves both these problems at the same time by collecting objective feedback from clients about each company registered on the site and performing in-depth interviews with clients and customers to gather comprehensive input. Visitors then have the big picture and can read all testimonials (the whole kit and caboodle, whether good or bad).
Leading with consistency, transparency, and excellence

Tech-enabled companies all over the world have collaborated with us on their projects, many of which are still powering their development with dedicated Arcanys teams after years of a fruitful partnership. And what exactly makes us different from other software development companies? Here are a few noteworthy aspects:
A fusion of passionate tech talents

Our tight-knit group of tech geeks is not only at the top of their fields but are also passion-driven knowledge-hungry talents. They're a cool blend of experts ranging from software and cloud engineering to UI/UX design and customer support, all eager to solve all kinds of tech problems for clients in various industries.


A rigorous recruitment process

We have been in the IT outsourcing scene for 10 years, and we have made hunting for great tech masters here in the Philippines our life's work. You see, we only hire the top 5% of the talents we find. We search for highly motivated problem solvers with a great attitude and a hunger for learning and mastering cutting-edge technologies. We always strive to give our clients the best—dedicated team players with the right smarts, expertise, and character.


An eager 'can do' mentality

Continuously learning and always up to date, we adopt the best practices and internationally recognized standards and methodologies in software development, QA, and cloud systems management. Our software experts consistently deliver great passion and value to any project they take on and are not afraid to get out of their comfort zones to learn new technologies if the project dictates it.

"Their team has a drive that can push any project forward."
– David Borgenvik, Founder of Tiqqe
"We're honored to be featured again on Clutch's Top B2B Companies in Asia for 2020!"
– Frederic Joye, Co-Founder

And of course, we're incredibly grateful to all our clients who made this award possible by showing us their appreciation for our hard work on Clutch. Here's what they had to say about working with us: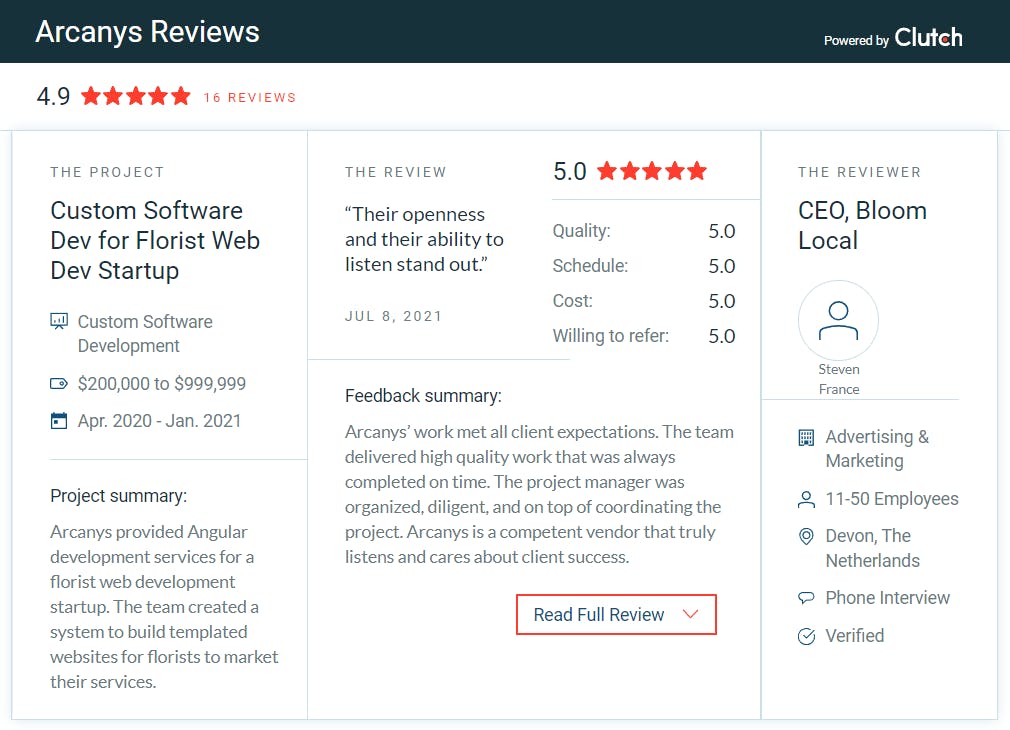 And to all our tech partners (for that's how we see all our clients), both this award and our 4.9-star rating on Clutch are all thanks to you! Merci beaucoup!

To learn more about us, check out our Clutch profile, and read our reviews. And when you're ready to get started on your next project, contact us!