Tech companies, big or small, established or startups, always need a helping hand to grow and make their software product stand out in their respective industries. It's to meet this need that Arcanys came to life in 2010. With our dedicated teams of project-ready tech experts, we help worldwide businesses become the best version of themselves and receive the flexibility and support they need to thrive in the long run.

The success of these partnerships essentially relies on mutual respect and trust, shared vision and values, and honest and open communication. Little did we know that this was true in more ways than one. We are delighted to share that thanks to the kindness of our clients and partners, we've been recognized as the Top Development Company in the Philippines from 2021 to 2023 by Clutch.

For those who don't know about them, Clutch is an independent online review platform based in Washington DC. They cater primarily to the B2B industry by using a unique verification system to aid in their industry research.

In order to be featured highly on Clutch's rankings and win this award, a company first needs to earn multiple high-quality reviews from its clients. These reviews are the metrics by which the platform judges the quality of the services provided by the vendor, and their standing in the industry.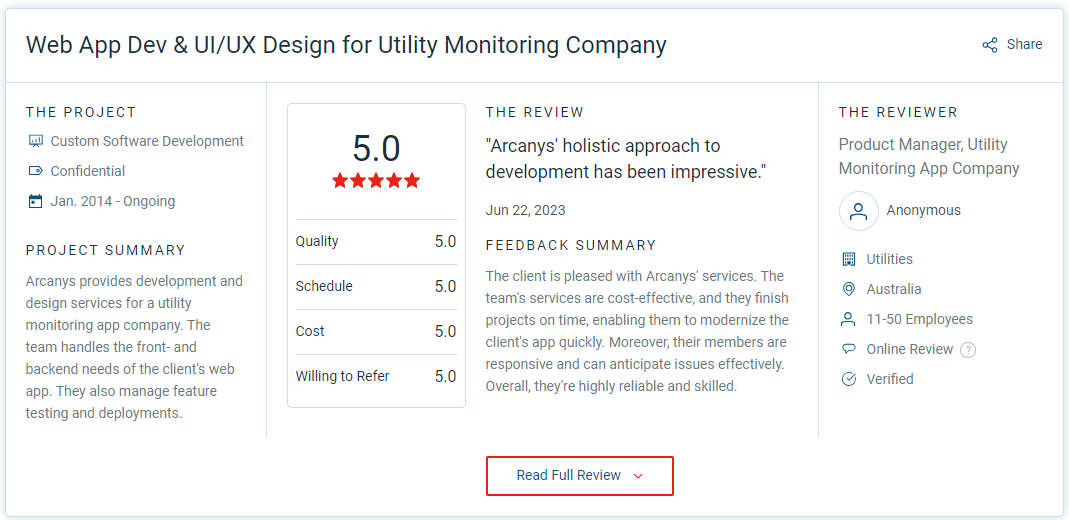 Our team would not be here without the clients and partners who believed in the work we do. They gave us the opportunity to keep doing what we do best, even in the most challenging of circumstances. In fact, this is what our Co-Founder had to say about this milestone upon reflecting on everything that happened in the past years.

"2020 and 2021 have been tough years for many. But with constant hard work, flexibility, and a company culture stronger than ever, our clients from all over the world know that we have their back even in the most trying times. The value of partnering with a team of entrepreneurs who are not afraid to roll up their sleeves, passionate developers who love to work on complex SaaS applications, and help churn out features faster and for a fraction of the on-shore cost is invaluable to any ambitious tech-enabled business. Arcanys makes sure to be ahead of the curve with training, technologies that matter and deliver unbeatable value for money for every client we have. Being recognised as a leading software team extension partner for the 5th year in a row is truly a great honour and keeps us motivated to improve even more!"

- Frederic Joye, Co-Founder of Arcanys.

If you're looking to partner with the best custom software development and team augmentation experts in the Philippines, look no further and connect with us today, so we can assess your tech needs and start paving the way for a winning collaboration together.