Here at Arcanys, we know exactly what it takes to build successful software solutions that fuel our partner companies and make sure they stay ahead of the technological curve. We allow them to speed up their development at a reasonable cost without compromising on quality. How? By assembling highly-skilled, dedicated software development teams to join our client's tech team on a full-time basis.

We actually offer a pretty wide set of skills and expertise to startups, established businesses, or enterprise-level corporations who need to create impactful and time-tested cloud-based software solutions. But with so many service providers out there, how do you spot the ones that have really proven themselves in the industry? Well, this is where Clutch steps in.
A fair look into the competition among B2B companies in the IT industry
With in-depth research, a collection of verified feedback from clients, and a unique rating methodology, Clutch has set itself as the #1 B2B review site to compare leaders across the IT industry. Every year, they publish a list of the top 1000 global leaders—the Clutch 1000. And guess what? Arcanys is part of the list! Yes, we're ecstatic to find that we are one of the top Custom Software Development companies worldwide. Not only does the list place us in the top 1% of the more than 160,000 B2B companies on Clutch, but we are also the only tech company based in Cebu City, Philippines!

Just as we regard every client's success as our own, we want our clients to take this award as theirs, too. We're immensely grateful for their continuous trust. And of course, we're also thankful to our awesome team here in Cebu City. In reflection of our clients' feedback, we've attained an impressive 4.9 out of 5 stars in Clutch! Check out the recent review below: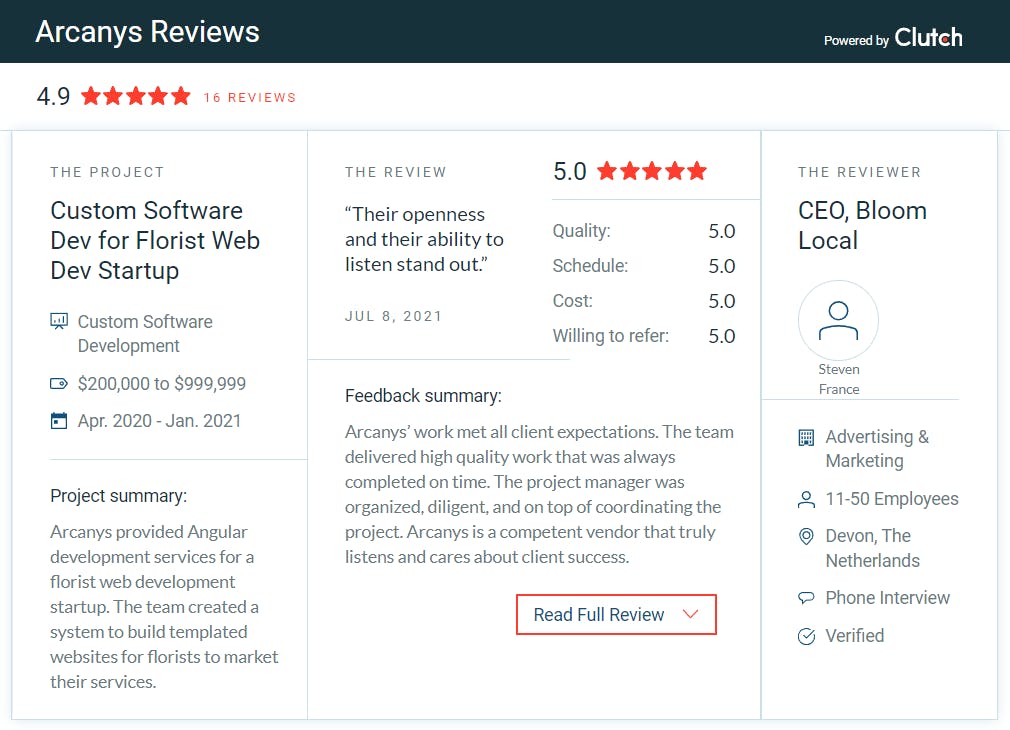 "With an impressive array of projects and clientele, superior knowledge, and attentive, detail-oriented customer service, these companies have established themselves as industry leaders both locally and in the global B2B market."
~ Clutch Founder Mike Beares said.
Behind the scenes: Are software engineers as happy as the clients?
At Arcanys, putting our employees first is our priority. After all, they're the ones making our clients happy. With a strong company culture and tons of benefits, we boast an incredibly high retention rate in the Philippine IT scene. Employees actually rate us as a five-star employer on Glassdoor. Here's a glimpse of their testimonials: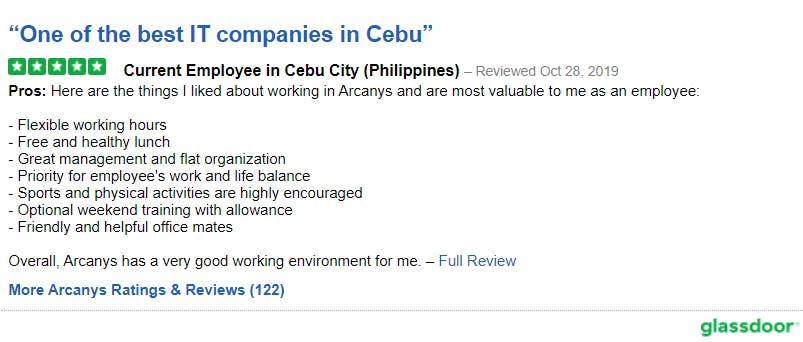 Conclusion
Clutch is indeed a trustworthy authority in the IT world for unbiased evaluations on B2B service providers today. However, other review sites also recognize us as a trusted tech partner and first-class custom software development company: The Manifest, Visual Objects, G2Crowd, and more.

And if you want to hear what our clients think about us straight from their mouths, you should check out the following video: