Last year, Arcanys almost doubled in size with over 100 new brilliant recruits in the fields of software development, testing, and cloud engineering. And most of them were employee referrals, too! Add to that being recognized as one of the best software development companies in the Philippines, it's no wonder we're all quite excited for the future.
But why are the best Filipino developers choosing to join, and stay, with us? What makes us different from the other tech companies in the country? Well, we believe that the following facts may very well be some of the reasons why.
1. We encourage creativity and open communication.
With our flat style management and open-door policy, we can confidently share our ideas with anyone, at any time, and easily receive feedback about them. And daily stand-up meetings are initiated by project coordinators to keep everyone synchronized, making deliverables easier to accomplish with fewer chances of error. This makes for a transparent, sound working environment where we all feel comfortable.
2. We cultivate passion.
We only hire team members that are passionate about their work. If you worked with us, you'd see that we all love technology and are excited about the future of big data, IoT, and AI. We look with awe at technical achievements and immediately get super curious about the technologies behind them. We eat, drink, and sleep dreaming about bringing solutions to challenges involving modern software architectures. Software performance dilemmas delight us, and we make sure everything we build is clean, scalable, and secure. That's who we are.
A team brainstorming their project during Arcanys Hackathon 2019
3. We believe in continuous learning and professional growth.
At Arcanys, we don't just work on projects, nose to the grindstone. We also work on improving our skills and broadening our knowledge, with events like weekly lunch classes (a.k.a. Wednesday Classes) and paid weekend training. So every Wednesday, everyone gathers around to learn just about anything—from good coding practices, time management, and financial planning to all kinds of health and fitness tips, anything that would help us improve our lifestyle and professional skills. It's also the time we introduce new hires and welcome them to the family. Saturday training sessions, on the other hand, are for improving our technical knowledge. Coders are paid to attend training that will help them enhance their skills or add to their expertise.
4. We get paid well.
With a high base pay plus various incentives, performance bonuses, and benefits, Arcanys offers fair and competitive total compensation packages compared to other employers in the Philippines. And our compensation gets reviewed every six months, which is hands down the coolest part.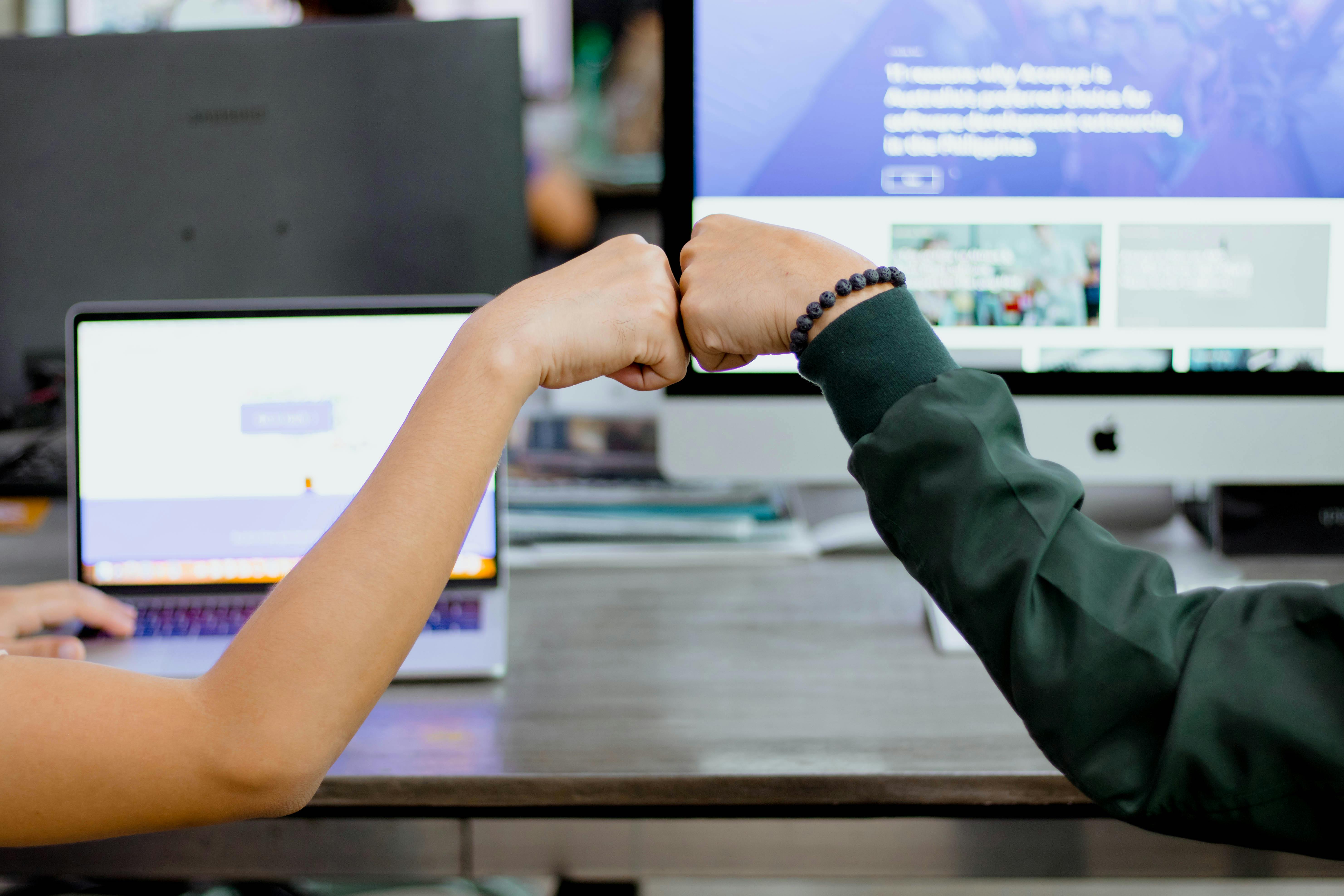 5. We're recognized as trusted tech partners.
We have a well-established reputation, both here in the Philippines and abroad, for being efficient and reliable in providing software development services. We're happy when we work on challenging complex projects that let us utilize our creativity and problem-solving skills, and our clients say they are more than satisfied with our output. This is all because we have a winning combination of Filipino engineering, Western management, and global delivery.
6. We have solid health benefits and tons of other perks.
Partnering with Intellicare, one of the top HMO providers in the Philippines, is something that's one for the books. We have free health care services from day one, not only for every employee but also for three of their dependents, which covers medical expenses for pre-existing illnesses. We know that having good health is one of the most vital things in life. But that's just one of the benefits we enjoy.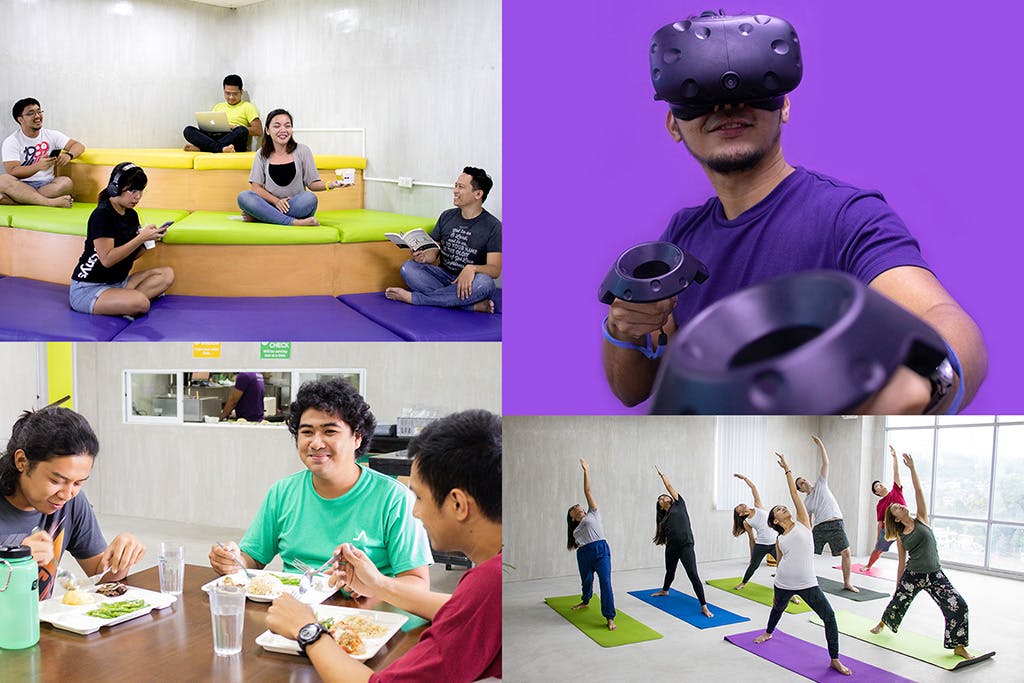 7. We take care of each other and foster personal development.
Every Arcanys person's well-being is a priority. We encourage everyone to eat well (with free lunch fresh from the kitchen every day) and offer them the opportunity to exercise and be physically active with free gym memberships, on-site classes, outdoor activities, and more. We have established an office environment that helps keep stress levels, which may be caused by intense coding, QA, and other tasks, to a minimum. And every teammate is given all the support that he/she needs to make them efficient and effective in their respective projects, without compromising their welfare.
And Arcanys people feel it, too! You can see for yourself here: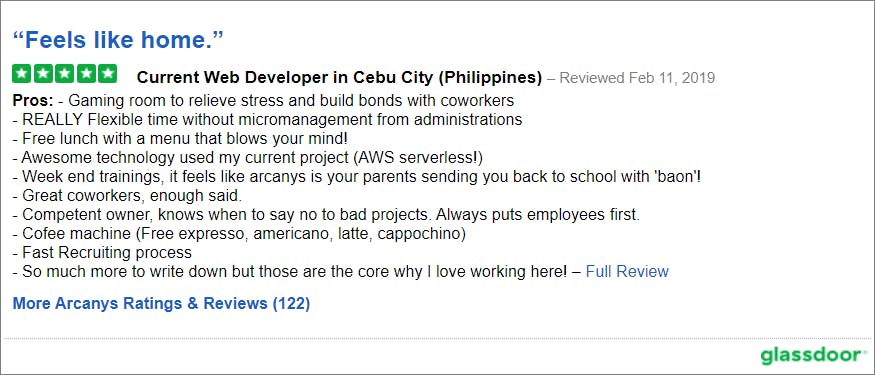 8. We're nice people who just really like to have fun.
Our parties and celebrations are the best! Summer outing, Year-end Party, Fun day, etc. We all got them. And of course, we don't settle for just any typical kind of celebration, either. We like to make everything memorable, so much so that you'll hear people talking about how fun the events are for quite a while. And our R&R team tirelessly organizes the events while our marketing team efficiently documents them for posterity, so all of Arcanys gets to enjoy recalling all the fun and shenanigans for years to come.
Year-end party 2018 Arcanys Live and Loud
In short…
Arcanys has been known to focus on what's better for its people without compromising what's better for the business. We've always believed that our people are our strength, and we have no doubt that doing our best to make the office feel like home and everyone a family will lead Arcanys to even greater heights for years to come. We do everything we can to provide fabulous opportunities for growth––whether it's for financial, career, professional, or personal development––which is also what sets us apart as an IT employer in the Philippines.
Also, we're still growing our numbers. Wanna be one of us? Show us your core competencies and we will do justice to your skills.